One time offer. One spot only!
Start your new year with a new brand
...with our full VIP web and branding package, A Bright New Site. We help you move your online appearance to where you already are on the inside: with holistic high-end positioning! Regular price: 19997,-€. December Deal: €14997,-€. Actual value: transformative & priceless.
kickstart your brand new year with
Our flagship branding & website package
Chances are your website is your single most important medium: Here, you tell your story in words and pictures that make you sigh with pride, and that convert clickers into clients. Ideally, your website is aligned with you. It fully reflects the core values of your brand and holistically puts your message across.
It does? Congrats, you can click away. It doesn't? Super, it will soon if you drop us a line. Sounds good? Our Bright New Site package does more than that - it also delivers a sexy yet solid branding base which is instantly applied to the website, like a direct visual implementation of your identity as we reveal it in our work together.
What if you:
welcomed the new year confidently with your firecracker brand
started 2023 with a bang - and your brand-new, killer website
finally took the next big leap - for half the regular price?!

You get: Katja & Hans both. 1:1 at your side. Four eyes on YOUR brand. From the inside out. Including copy and design. Strategy and implementation. That's why we call it holistic!
Feel the butterflies in your tummy? Then hop on the phone STAT. We have exactly ONE spot available. If you are interested, get in touch as soon as possible.
Special December Offer! -25%
360°BRANDING at its finest
what's included & who it's for
This package is for you if you are prepared to go on the exciting (and sometimes, highly emotional) journey called full web relaunch. Translation: we help you move to where you want to be standing. So your clients know precisely what you do, and do not, stand for. The real value of that? We reckon: priceless.
PS: More often than not, our Bright New Site Clients turn out to become the trend-setting, game-defining leader of their genre, at the top of their field. So be warned: they tend to get copied (badly). Ready to turn into the iconic, state-of-the-art role model for those copy cats? Hit that request button and book a call - no-strings-attached!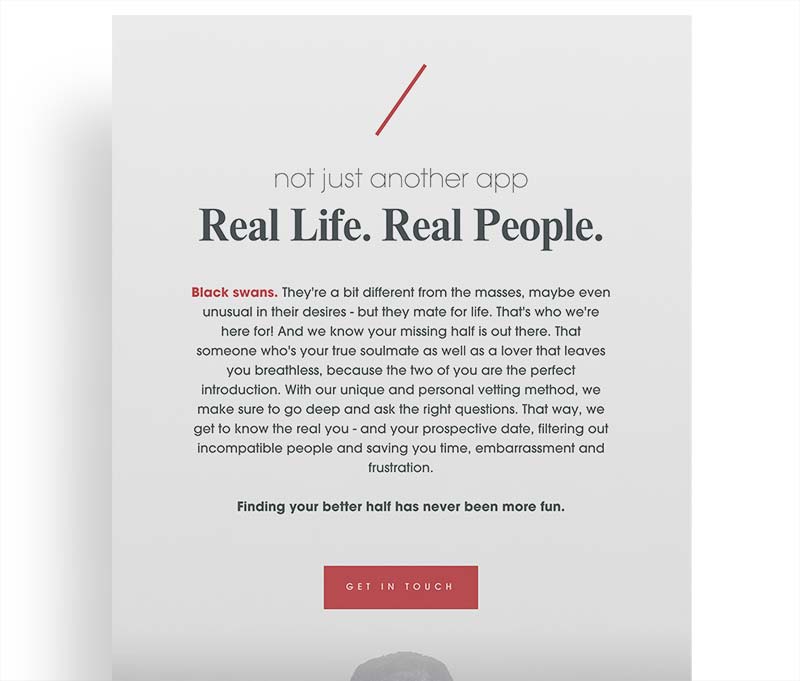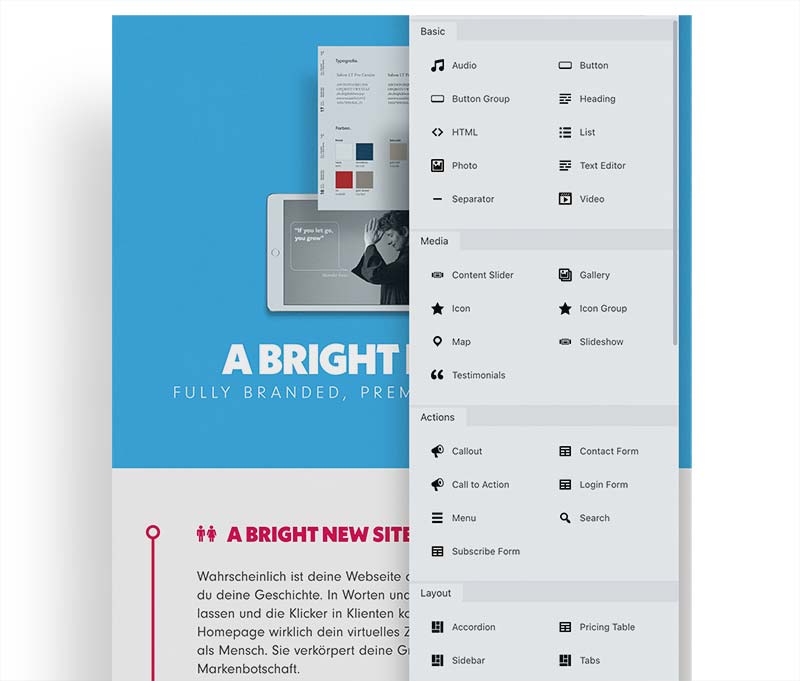 Week 2
feedback and interview round, correction loop, completion of brand identity
start programming website in WordPress
Week 3
obtaining customer voices and testimonials
completion first draft of the homepage + feedback
Week 4:
content editing, programming main pages
first draft copy
Week 5:
Launch Week!
feedback, correction loop copy
fine-tuning website in close coordination between graphics & text
last approval by you
going live!
WordPress training
The above project milestones are guidelines. This timeline may change slightly depending on the project. You have a specific desired deadline? Let's talk!
25% is due when the order is placed, another 50% after acceptance of the first design proposals - logo and design concept. The remaining 25% is due before project completion; at the latest, however, by the end date of the timeline proposed by us.
Any questions? Let's talk without obligation - we'll find a solution! Especially if you have always wanted to experience our magic live and we love your calling. Change makers unite! 🙏🏻❤️🤘🏻
"In Katja and Hans I found my dream team for design & texts."
You can quickly put together a homepage and logo yourself, right? Are you kidding me? After frustrating and time-consuming self-experiments, which were not only aesthetically questionable, but also quite simply not the only thing I wanted to deliver, in Katja and Hans I found my dream team for design & texts. The two of them have not only realized my ideas with great love for detail, intuition and creative ideas, but also exceeded them many times over. Finally, I can be so proud of my website and it has become really great. It's a bit of a shame that the intensive cooperation with Katja and Hans is over, because it was a lot of fun. Thanks, you two, for your presence, your skill and my beautiful digital home!
Dr. Janna Scharfenberg
"That's how I felt with Katja. I noticed immediately, she understands me without words and a lot of explanation, she gets it."
Recognize that feeling...when you know straight away: "It's a match"? That's how I felt with Katja. I noticed immediately, she understands me without words and a lot of explanation, she gets it. My brand, my message. Katja and Hans, like us, a parent-business-power couple - they understand what 'Familienleicht' is all about. That was exactly what we needed: a highly professional dream team for text, design, branding - the whole is greater than the sum of its parts. The two of them did our complete rebranding, were always there when you needed them - and now our website feels like "us". 1000 thanks and heartfelt recommendation - and we also have a lot of fun together. Rock on!
Lena Busch
"We wanted to have a great website just like bright-idea.de."
We chose Katja and Hans based on a recommendation and because we wanted to have a great website like bright-idea.de. We particularly liked the fact that we could choose between different packages. We went straight for the "A Bright New Site" package. We quickly realized that we had made the right decision when we received our personal implementation plan a day later. It was clear to us what we would get when, but also what we as WYSA had to deliver.
Hans provided us with suggestions for new branding and logos and Katja shaped our texts. From our point of view, the combination of branding, web design and the right content makes a website successful. Katja and Hans definitely bring this expertise with them.
We will continue to work on our website in the future and look forward to the next exciting steps with Bright Idea.
Philipp Schulze-Tertilt
Here we are: your new A-Team for all things creative. An agency that rocks, with one goal - for you to become who you are. And then, to show exactly that.
You don't mind the odd profanity? Partial to woo is what you are? You have been known to laugh, even at yourself at times? Awesome - rest assured we will be making magical branding babies together. "Hang on, hold your horses!", you say? Alright - let's introduce ourselves first.
We are New Workers. We have been to New York. Our family is trilingual and we have lived in London, Amsterdam, Berlin, Cologne and Munich. Currently, we call Osnabrück home, slap-bang in the middle of Europe - often, we can be found on the beaches of North Holland next door. Our daily life is filled with books, records, creativity and well-made 'flix and classic shows. Our thing?
REVEALING IDENTITIES.
more client love - it's mutual!
"My website that's me. And for that I thank you both with all my heart!"
In theory, you could say that I came across Katja through a couple of coincidences. In reality, however, I believe it was just meant to be, after our paths crossed a few times already. The first phone call with Katja convinced me 100% that I wanted to work with her and Hans. I was very exited and immediately knew that my new homepage was going to be great.
The result exceeded all of my expectations. Katja and Hans bring a mixture of heart and mind, creativity and professionalism, which I love. My website turned out beautifully. The layout and the text reflect exactly that what defines me as a person. The website that's me. And for that I thank you both with all my heart!
Claudia Kuhlmann
"Working with them was one of my BIG LEAPS in my business. "
They don't make homepages, they make a work of art! They made me shine from the inside out. I don't know how they do it… but with them by my side, there was always someone who guided and supported me on my journey. Their eye for detail (graphically, textually and also technically!) is simply splendid. On our journey, they have given me enormous growth potential. Working with them was one of my BIG LEAPS in my business. The time had come to show myself to the world with my own ART, because this is one of the most beautiful gifts I have to offer the world – I feel like I have finally arrived in my business.
A huge thank you with drums, trumpets and glittery confetti to Hans and Katja – without you it would NOT have been possible.
Stefi Schmid
Sandra Frei
My wish for bright idea was that I get the right support for an authentic website. I got a team collaboration (incl. photographer) full of creativity, passion for doing, enthusiasm and this incredible feeling for me – what I need exactly to show myself.
The result of this super exciting time: What I wished for was achieved 100%. Just great! Thank you for everything.
Mareike Fuisz
Yesterday, my first own Mareike Fuisz website went online. Let me tell you: that was a transformative process where I learned a lot about myself! Thankfully, I had two wonderful magicians at my side, Katja and Hans - a huge thank you for your genius and patience! I am very impressed by how close a first draft can already come to the final result.
Katja Grolimund
Working with Katja and Hans was an absolutely honest, enriching, creative and professional process for me. The result is my very personal and authentic website that I'm really proud of. Thank you both from the bottom of my heart for your time, your energy and your unique "power combination" for text and design. Twofold genius!
Alexander Paeper
Katja and Hans designed our new homepage and our new logo. They worked very creatively, very patiently and meticulously and inspired us with a wealth of great ideas. They've also succeeded in enriching our rather sober and technical world with quality and emotions.
Anna Rischke
Do you know the feeling when you see something and it feels so harmonious that your heart becomes warm? That's how it was for me. Katja and Hans have revised my existing website and brought it to a new level. For me it was like a new beginning!
There are web pages that fill pages and there are web pages that fill a space. Or as Katja would say: they rock. Katja and Hans open rooms with a secret recipe, which is based in any case on professionalism, a lot of experience, sensitivity and on the fact that text and design interlock in such a way that something comes out that has a magic in itself. Of course there is more, which is revealed as follows: sexy! Thank you for your work and your being!
Andrina Tisi
Working with Katja and Hans was so effortless and fun. As I am bilingual it was fantastic for me to be able to speak in english and german to them and it made the communication easy.What was so astonishing to me is that after just a few conversation they really GOT ME and what I wanted to convey.
They understood that certain things I needed to sleep over to have the answer and make a decision, I never felt rushed and still our work together was very efficient. I love the combination of the both of them as a team, they come with a fast range of experience and I felt really seen. I truly love working with them and I am sure you will too.
"I have been blown away with how spot on Katja and Hans interpretation has been of my briefing."
From the moment I spoke to Katja, I knew she got the message I was trying to convey and what had to be done in order to get my brand to stand out! I have been blown away with how spot on Katja and Hans interpretation has been of my brief, from the very beginning all the way to the final result. Not only that but they supported me and pushed me to go that extra mile to make my personality come through! I couldn't have chosen a better partner for the job.
Asa Baav
Regular price €19997,-
€14997,-
Insane - we know! Get in touch now to take advantage of our craziness
We have exactly ONE spot to give away for this price. First come first serve. Winner takes all. Now or never. Rien ne va plus!
So if the offer now suits you exactly, then just let us know as soon as possible and arrange a call, free of both cost and obligation, to get to know each other!Remember: First come, first served! As soon as the ONE spot is filled, this offer disappears.