DIY Kickstart - Your 8-Week Website Workshop
Create your own WordPress website with Bright Idea!
Say goodbye to website stress and work with our
fully functional WordPress site to get you started
Hey you! There's no way around it anymore, you need a website and you kinda want WordPress. But you have no idea how or even where to get started!
Well, we do - so never mind winging it all alone. Just get started under our expert wing instead, with all the tech stuff taken care of. Fill your website with your content while we hold your hand! No helmet required.
We get that. You need a lean, mean, sexy selling machine as an online presence, not a nightmare of cobbled-together bits! Hey, there's just no need for you to become all desperate because building your website sucks.
Not only have we done all the coding work for you - we're also here to help with font, colour and layout questions. So it all looks and feels good together - and so will you, without those frown lines and smeared panda eyes.
And it's ridiculously affordable!
Create your website together with us
DIY Kickstart is an 8-week online workshop in a small and cozy group, with five live calls and two branding experts to guide you. We write copy, design and code in WordPress for a living and we've created this course for you as a newbie!
So if you're itching to make a splash with that big biz idea, but want to test the waters first before bringing out the big budget guns? If you're someone who is Chief Everything Officer still and doesn't have any time to waste?
You definitely want to...
have control over your site
Bright Idea helps you to kick-start your dream project; with a set of prefab sample pages, including a blog. You can use this as a starting point to create your own content and design.
Your WordPress site is built on our solid in-house theme - created with you in mind, and it can be set to any language you desire. Your custom theme comes with the super clear and easy to follow Bright Idea Quick Start Guide, including instructions and tips to get you started the right way...and you can ask questions via email or in our Facebook group with your fellow kick-starters. This round will be held in English, but German and Dutch speakers can ask questions in their native tongue, too!
And there are weekly live expert calls!
We take care of the tech and help you achieve your website goals!
Kickstart your biz success
Stop worrying about your site and get it moving with DIY Kickstart!
A fully functional WordPress site out of the box
We'll lay the foundation
Before you get started, we have already taken care of installing and configuring a fully functional WordPress website, together with all the tools you need. Simple and practical, so it's an ideal way for you to personalize your site. You have a premium page builder at your disposal, which allows you to quickly design layouts, choose colours and fonts. And to add a little more kick to your start, we have prepared some ready-made sample pages for you, including a blog!
Adding your own content is super easy
You focus on your content
You can easily build your pages modularly with a super-practical drag-and-drop system. Text blocks, full screen wallpapers, animations, sliders, accordions ..... you can really go to town and let your imagination run wild. And everything you've come up with can be saved and reused at any time, even complete page layouts.
Tutorials, Quick-Start Guide and live group calls
And we got your back
For eight weeks, you will have our WordPress expert available to you. Our tuorials and quick-start guide are super clear already, but of course you can always ask us questions by e-mail. Once a week, five times in total, we answer them in a live group call via zoom. Four times, Hans is at the helm, all web-develop-y; once, Kat contributes valuable copywriting advice.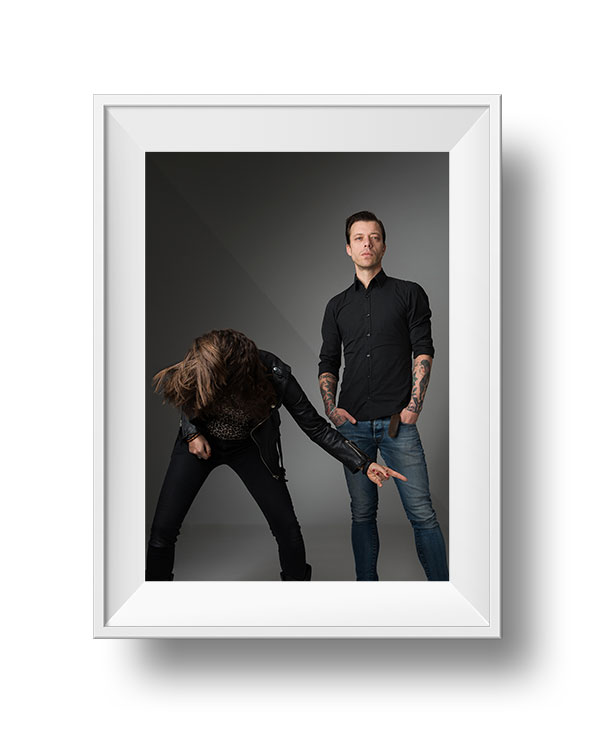 Ready Freddy?
I want it all, and I want it now!
Hi, we're Hans and Katja aka Bright Idea - a kick-ass pair, not just hot air. Together, we love to do bespoke work for our 1:1 clients, building their brand and making shit-hot websites to boot. Those are very intense processes and we really take our time to get the best results.
However, shockingly, there are only 24 hours in our day, too...and we simply cannot always take on every project that comes along. We also know that not everyone is ready for customized, done-for-you work, if only financially, yet our hearts beat for those biz newbies with burning ideas on how to improve the world.
That's why we started looking for a way to expand our services in a way that's attainable for everyone. Enter DIY Kickstart!
Join us and kick some biz ass!
THE BREAK-DOWN
Not of the nervous kind - just us, breaking it down for you to the nitty gritty once more...
No more tech stress; everything is set up for you!
Pre-built WordPress website including sample content to get started right away
Create your own layouts via easy-to-use drag and drop system!
Responsive design: Your site will fit and look good on mobile phones and tablets
Pre-installation practical plugins for SEO (search results for your site in Google), GDPR (privacy policy)
Quick Start Guide with instructions and tips
We link your WordPress website to your domain
Five live expert group calls on Zoom
Support from your fellow kickstarters in our free Facebook group
The next DIY Kickstart is planned for February/March 2021. Be the first to hear when it's going down - no strings attached
You'll be among the first folk to get notified about our DIY Kickstart Early Bird offer. Plus, you'll receive hot input on all things WordPress, websites and Branding - along with selected, exclusive goodies from us. Because we're already looking forward to our next bunch of bright branding bandits after our Beta group have finished...so come back to school with us and finally take action on that website of your wet dreams!
If you send the data entered in the contact form by clicking on the button, you agree that we use your details to answer your inquiry or contact us. A transfer to third parties does not take place, unless we are legally obliged to do so. You can also find more privacy information in our privacy policy. We use ActiveCampaign as our marketing platform. By clicking to submit, you acknowledge that your information will be transferred to ActiveCampaign for processing. Learn more about ActiveCampaign's privacy practices here. This site is protected by reCAPTCHA and the Google Privacy Policy and Terms of Service apply.