Build your WordPress website with a professional
A premium, pre-built website combined with my professional guidance: THE WEBSITE LAUNCHER is the definitive DIY-solution for people who want to create and maintain their own WordPress website.
Say goodbye to website stress and hello to
Hey you! There's no way around it anymore, you're starting a business you can't wait to show it to the world. You need a new website, but you have no idea how or even where to get started! So if you're itching to make a splash with that big biz idea, but want to test the waters first before bringing out the big budget guns? If you're someone who is Chief Everything Officer and doesn't have any time to waste?
Why do it yourself?
Either you don't have the budget to bring in REAL professionals, or you just don't want to be dependent on anyone else, especially semi-pros who get the job half done. Instead you want to be in control of your own website's destiny. But you want to get it right and you want to start right now!
If you can do it with me!
Never mind winging it all alone. Just get started under my expert wing, with expert guidelines on design, content creation and tech. Just follow my lead step-by-step and dance your way to website greatness. All the tech stuff is taken care of and you'll get a head start with a fully functional WordPress website for you to turn into your own.
I've got you covered!
Got stuck with your website plan?
You need a lean, mean, sexy selling machine as an online presence, not a nightmare of cobbled-together bits! There's endless possibilities out there, but you're overwhelmed and not sure what's best for you. Maybe you've already tried, but somehow you got stuck and you have no idea what to do next.
Does any of this sound familiar?
I want to build my own website, but I don't know where to start
Squarespace, Wix, Elementor, Divi...they all sound good but I don't know which is right for me
I got a website, but I don't even know how to make quick changes
My website doesn't look anything like what I have in my head
I'm afraid I'll make the wrong choice (again) and do all the work for nothing
I spent SO much time already and my website still looks horrible
I don't know anything about web design
Hey, there's just no need for you to become all desperate because building your website sucks. Not only do I have a solution, I've made it fun, easy-to-use and most of all, all-inclusive.
kickstart your brand new website and get by
with a little help from a pro
Nowadays there are more than enough DIY website options. Each of them with pros and cons, most of them very good solutions. The problem is: It takes more than just a fancy template, cool looking theme or elaborate software to build a good website. And chances are you can use some help.
It doesn't really matter that much whether you use Elementor, Divi, Squarespace, Wix or whatever. These are all just means to an end. It's not the 'what' but the 'how' that matters in the end. To launch and maintain a good, successful web presence, you need a structured plan for your content and design. A roadmap to online greatness. A Website Plan.
What if you can
create your website with a professional web designer by your side
have someone show you what you actually need to know and what you don't
have someone show you practical design tricks that make all the difference
get moving fast with a step-by-step roadmap
make giant leaps just by applying the bare basics of web design
learn how to easily manage your own WordPress website
learn how to maintain a consistent, great looking website in a sustainable way

And what if could launch that project with a fully-functional, ready-to-go, professionally designed and configured WordPress website?
Let's put 2 and 2 together!
Do it yourself with my help
I help you kick-start your dream project; with a ready-made WordPress-site to get you going right away. It's a complete website which includes a set of beautifully custom designed sample pages, including a blog. You can use this as a starting point to create your own content and design. It already has all the tools you need pre-installed, including an easy-to-use page builder (We use Beaver Builder. For more info check wpbeaverbuilder.com), WordPress-theme (Beaver Builder Theme) and essential plugins.
I laid the foundation
Get started with a fully functional WordPress website, together with all the tools you need. Everything is set up for you, ready to go...you just have to fill it with your own content and apply your own design!
You focus on your content
Start with my practical step-by-step Website Plan to build sustainable and stay focussed. Create your own layouts and design using the ready-made sample layouts as a starting point. You can edit modularly with a super-practical drag-and-drop system. 
I got your back
You'll get access to all the documentation & video tutorials you need to help you design & create your own website. If you still have questions, you'll have full support from an expert in web design and WordPress.
The all-inclusive DIY WordPress website package
Hosting for your website is NOT included. When you start, your ready-made default Website Launcher Website is hosted on my server at Raidboxes, flat out the best WordPress hosting company (Plus: It's climate positive company!), and you can start working on that right away. You will have to take care of your own hosting package within 2 months though. Once you did that, I'll transfer your website to you. For more questions, check out the FAQ section below!
If you don't find an answer in the FAQ section below, you can send me an e-mail with your question and I'll get back to you asap!
You're in charge
An acquaintance did your website as a favour, breaks off all contact and you now have no idea how to do even the most basic changes...Happens a lot, but not to you. You know how shit works and  you're master of your own domain.
You're not alone
...I am here with you 😉 Well, a pre-recorded version of me is, in the course platform. And for 2 months you'll have access to bi-weekly live Q&A calls as well as support in the Facebook group, from me and your fellow launchers!
You don't have to guess
...what it is that you need. All the tech tools you need are carefully curated, configured and installed for you. And if you think you need more, you can ask me or the group for recommendations.
You'll get actual results
All the tools in your Website Launcher website combined with the shared knowledge and support of a professional, is the closest you're gonna get to guaranteed, fast and good results.
Extra 1:1 expert-support session!
You'll get a 1:1 ZOOM-call (normal price €399) with me! We'll have 1 hour to discuss whatever it is you need help with.
What did they think of The Website Launcher?
Martina Wildt
It's SO worth it. You have very good tech and design support when creating your page, and then later you can then edit it yourself at any time. Thank you very much for your great work and especially to Hans, who managed everything so reliably and clearly.
Annette Bauer
It really made me want to get into it, take action and be able to build a website myself. The support from Hans was always very caring and warm. This is so valuable because I was guided in the right direction, but I was still able to build it myself at my own pace. For everyone who really wants to understand who they are and what they stand for and not just want a "bought" website for themselves.
Dr. Anja Breetholt
You get a great, pre-designed website that really looks beautiful to start with and that you can adapt to your heart's content! It really helps if you at least a bit of a feel for design and you definitely need enough time so that you can finish the page in that time. The support is world class and every question is answered within a very short time. No matter what your wish - Hans makes it possible. I felt very well looked after!
Sandra Thierolf
The tutorial videos were great, all clear and understandable! I was able to understand the individual steps well and apply them to my website myself. The DIY theme is great! It's great to work with. I was able to adopt many modules 1:1 and only adapt them to my design. The Website Launcher is THE course if you want to get your website up and running in just 8 weeks. Hans knows how to explain step by step how to get from A to B with humor and know-how, so that in the end you'll have a website that you designed yourself and can be proud of!
Nathalie Follmann
I really enjoyed The Website Launcher. The course is great, especially for WordPress beginners, because no knowledge is required and the site is set up from the start. Hans created lots of great templates so that I could get started right away. Every week there were new video tutorials in which he dealt with different main topics. We all worked individually on our website, but thanks to the common Facebook group, there was always a great exchange and the other people's questions often helped me a lot. My highlight were the weekly calls, in which we went through open questions and were also able to take a look at the websites of the other participants. With Hans as a thoroughbred designer, I had someone by my side who not only helps me with technical questions, but also has incredibly good know-how and a feel for design. So a full recommendation for everyone who has the desire and time for a WordPress adventure where you are your own art director!
inside The Website Launcher
All your course materials in one place
As soon as your journey starts, you'll get your own personal access to all of the course materials in the launch platform membership area. Here you'll find everything you need in one place...
PDF downloads
In our Quick Start Guide I'll guide you through the first steps: From setting up the hosting for your website to exploring the basics of your WordPress website. Amongst other PDF's, you'll also find a comprehensive, 200+ page WordPress Manual, in case you want or need to refer to general WordPress knowledge.
step-by-step modules and targets
I've created a clear path towards your ultimate goal.  I've created separate modules with specific assignments and topics. In each module you'll find the relevant info and tutorials. You can follow these step-by-step modules and work your way through them at your own pace.
Video Tutorials
Your  Website Launcher Ground Control is also the home of a growing library of video tutorials on all the relevant stuff you need to know. From basic WordPress functions to specific layout tricks in your page builder tool.
Preview your kickstart website!
The default Website Launcher WordPress website, developed especially to kickstart your own!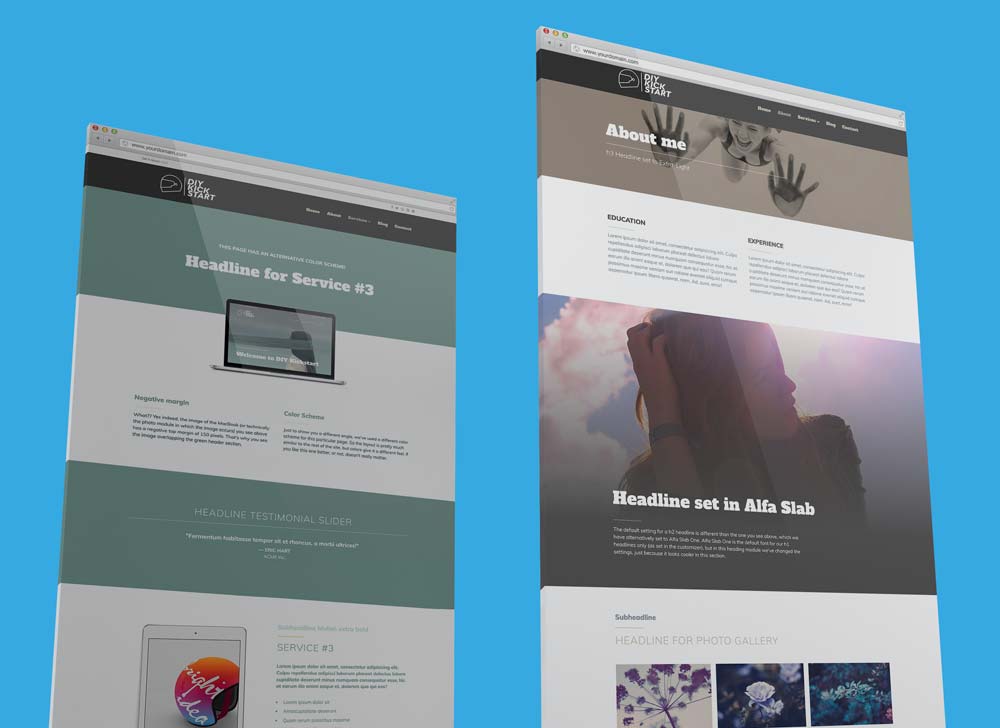 My name is Hans Groen. I'm Bright Idea's very own, all-in-one Art Director, Graphic Designer, Web Designer / Programmer. In our 1:1 client work I'm responsible for high-quality design, with implementation on- and offline. Digitally and analogously! Through years of experience working in agencies as well as independently, I can offer a full range of design solutions. My Zone of Genius however, would definitely be creating tailor-made websites. My unique combination of both design and programming skills allows me to do so independently. Over the last couple of years I've worked on over 100 web projects, mainly in WordPress.
However, shockingly, there are only 24 hours in my day, too...and at Bright Idea we simply cannot always take on every project that comes along. I also know that not everyone is ready for customized, done-for-you work, if only financially, yet my heart beats for those biz newbies with burning ideas on how to improve the world.
That's why I started looking for a way to expand our services in a way that's attainable for everyone. Enter The Website Launcher!
This is definitely for you if...
you need a quick, practical and not too expensive solution for your new website

you're definitely eager to learn how to build and manage your own

you have a pretty clear vision what it is you need out of your website
This is probably not for you if...
you have little time and you can't spare at least one full day a week

you have a serious phobia of anything remotely digital

you don't have a clear business strategy yet and you're maybe not entirely sure why you need a website
The Website Launcher will take off from Monday 17 April, but you have the chance to already secure your spot for a special, one-time-only price!
Want to start later? April 17th a bit too soon for you? But you want to make use of the special offer? No problem! You can absolutely book right now, and do The Website Launcher later. Just get in touch with me and let me know when you would like to start and we'll maintain your two months support for that period.
Special Offer
A fully functional WordPress website to go, plus:
Lifetime access to membership platform
Lifetime licensed premium plugins worth over €200/yr
2 months support in dedicated Facebook group
BONUS: 1:1 extra support session!
€1497,-
€997,-
Bit too much at once? You can also pay in two instalments!