se-signalelectronic
A family business rebranded
W
hen managing director Alexander Paeper approached Bright Idea, the family company SE Signalelectronic had long been established in matters of security and surveillance services. Nevertheless, it was time for the brand to be, well, rebranded to take account of the zeitgeist, which had changed significantly since the 1970s.
Off we went to the on-site meeting in Eschweiler near Aachen. Purpose: To get to know and to tap into the vibes to see whether a collaboration is an option. It was! We ended up with the informal "Du" very quickly and, with shared preferences for yoga, jazz, vegan nutrition and environmental awareness, we had a lot in common. The customer, or for us today simply Alex, wanted a clearer positioning. The overall appearance should be more appealing. Keywords are simplicity, clarity & amp; Minimalism.
Starting with the brand name. The word Signalelectronic no longer really conveyed the company's field of activity. Internally, one always spoke of SE, anyway. So we wanted to start establishing SE as a brand and took the new logo as a starting point. Referring back to the 'initials' SE, the claim also reads: Experienced security '. We can consistently pull through this idea and even create a series of claims or headings in the same structure: Experience security, super easy, very relaxing … you get the idea.
The rest of the 'corporate rebranding' then flowed naturally and has established itself on a variety of levels – from the business stationery to the new company clothing, and of course on the new website.
Because most of the existing texts, which are strongly geared towards SEO, were to be retained for the website, there was not much work planned for Katja. The Dutch half of the Bright Idea Power Bundle (funny: Alex is half Dutch, too!), on the other hand, had more than enough to do with the design, structuring and programming of the brand new SE website. The result? Mr. Paeper himself can also briefly summarize this for us:
Katja and Hans designed our new corporate design and our homepage. They worked very creatively, very patiently and meticulously and inspired us with a wealth of great ideas. They've also succeeded in enriching our rather sober and technical world with quality and emotions.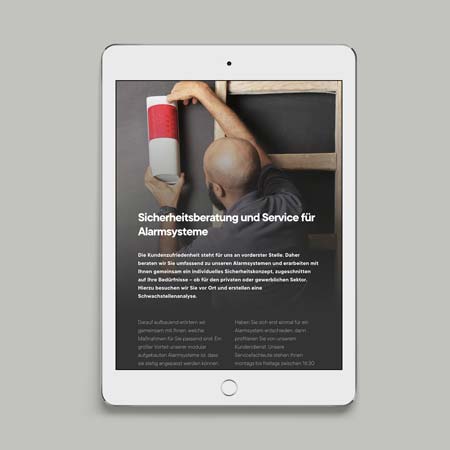 ---
du bist neu hier? lies doch unseren
Das Briefing für dein Branding!
Hier kannst du uns ganz in Ruhe und unverbindlich kennenlernen. Bis zu zweimal im Monat schicken wir dir Hot Offers, heißen Scheiß, der deine Marke weiter nach vorne bringt, oder vielleicht auch mal ein lustiges Katzenvideo. Wer weiß! Möchtest Du dazu vielleicht einen Freebie Deiner Wahl? Dann geht's hier lang! Hopp, hop on!