Lucia Bonatesta
First class appearance for a classy business mentor
W
ith a wealth of experience and knowledge, business powerhouse Lucia Bonatesta teaches and coaches fellow women in business, always to much acclaim. Her new branding was launched in August 2021. However, it lacked a final, consistent, clear line for practical implementation in her online presence. In addition, Lucia needed help with the textual design of her comprehensive offer. Enter Bright Idea…
The logo and the color palette should be retained as far as possible. We made some slight adjustments and added some more graphic elements, such as a custom icon set. The goal was to combine Lucia's brand values ​​in a flexible design language for different applications. The result was a final brand guide with clear guidelines for their website and also social media, which we summarized in three words: Elegance meets clarity. Lucia herself found a few more:
The collaboration with Hans and Katja is an act of surprise that results in a successful performance. While Hans is a composer of the visual, Katja excels at branding-specific claims and headlines that reflect who you are and what you offer. Altogether, an orchestration that inspires!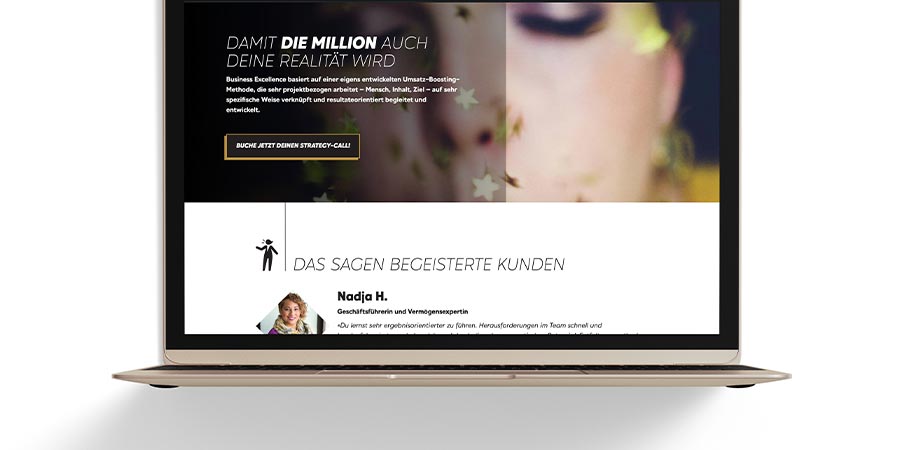 ---
du bist neu hier? lies doch unseren
Das Briefing für dein Branding!
Hier kannst du uns ganz in Ruhe und unverbindlich kennenlernen. Bis zu zweimal im Monat schicken wir dir Hot Offers, heißen Scheiß, der deine Marke weiter nach vorne bringt, oder vielleicht auch mal ein lustiges Katzenvideo. Wer weiß! Möchtest Du dazu vielleicht einen Freebie Deiner Wahl? Dann geht's hier lang! Hopp, hop on!