Mareike Fuisz
Divinely speaking about change
S
ome time ago, a very outspoken woman came to us asking for help. No wonder, she's a keynote-speaker. As such, she needed a strong presence online, matching the one she unmistakingly has onstage. "Nothing less than heavenly", was the short version of our client briefing. Mareike Fuisz chose our A Bright New Site package, containing a complete website, brand guide, logo design as well as stationary and newsletter design. As soon as we started working on the project, we knew we were on the right track. Luckily for both parties, Mareike was on the same, erm, page and we laid the foundation of her visual identity and of course the stunning website we were about to build…
The heart of Mareike Fuisz's branding lies within the logo: The classic serif lettering, combined with the phoenix as a graphic element (symbolic for Mareike's core values: overcoming challenges to rise up and change). We added a distinctive colour palette of gold, blue and red to the mix, together with two different font families. The beautiful serif Sabon, and the very versatile sans-serif Qualion.
For the website's homepage, we added flavour with some nice scrolling effects. A technical challenge, especially when having to make it work on mobile devices, too. For this project it was just that little something extra we we were looking for and it turned out great in the end.
Yesterday, my first own Mareike Fuisz website finally went online. Let me tell you: that was a transformative process where I learned a lot about myself! Thankfully, I had two wonderful magicians at my side, namely Katja and Hans – a huge thank you for your genius and patience! I am deeply impressed how close a first design can be to the final result!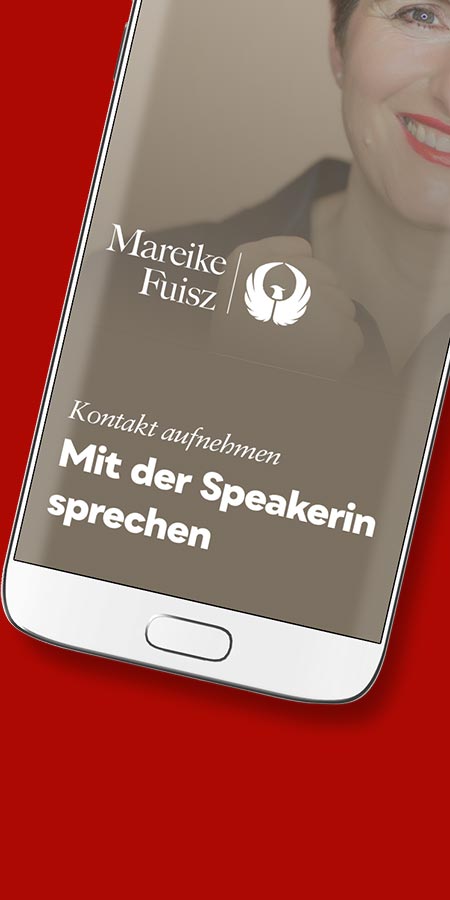 ---
du bist neu hier? lies doch unseren
Das Briefing für dein Branding!
Hier kannst du uns ganz in Ruhe und unverbindlich kennenlernen. Bis zu zweimal im Monat schicken wir dir Hot Offers, heißen Scheiß, der deine Marke weiter nach vorne bringt, oder vielleicht auch mal ein lustiges Katzenvideo. Wer weiß! Möchtest Du dazu vielleicht einen Freebie Deiner Wahl? Dann geht's hier lang! Hopp, hop on!